C3 Expo
Flourishing Russian Program at C3 Expo to be extended in 2006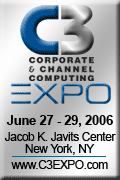 NEW YORK, NY - The Mid-Atlantic - Russia Business Council (MARBC), partnering with the C3 Expo Information and Communications Technology Trade Fair, organized a highly successful Russian - American program, including a Russian Conference and a Russian Pavilion in the exhibit hall. The C3 Expo trade fair was held June 28-30, 2005 at the Jacob K. Javits Convention Center in New York, NY. Attended by a large number of qualified buyers and exhibitors, C3 Expo is the premier information & communications technology event for the enterprise business marketplace exploring the full range of next generation global technologies and solutions.
The Russian Conference at C3 Expo served as a conclusion of the 2nd Semi-Annual Russian - American Innovation Technology Week, the largest undertaking of Russian - American business cooperation in the Mid-Atlantic States, organized by the MARBC. The week, which expanded from Philadelphia to New York from June 18 to June 30, provided opportunities for business and technology cooperation between U.S. and Russian companies.
The Russian program at the C3 Expo, organized by MARBC, and sponsored by EPAM and Logrus, included a seminar and four panel discussions held in a special Russian Pavilion with a MARBC theater area. The Russian Pavilion had an extensive display in the Exhibit Hall featuring information on a vast array of Russian science and technology capabilities.
On June 29, the Russian Conference presented a day of panels and presentations covering the most promising and pressing issues of Russian-American business and technology cooperation. Dmitry Borisov, Deputy Trade Representative and Consul Commercial of the Russian Federation in the USA, and Val Kogan, President of the MARBC gave opening remarks.
The Russian Conference began with the kick-off seminar for the series "Russian Science and Technology Opportunities for U.S. Companies." Speakers included a diverse group of representatives from major corporations to small businesses, and from research universities to technology associations. Topics included funding for US-Russian commercial R&D projects, the legal environment for business in Russia, the emerging economic power of Russia, the development of the Russian information technology and telecommunications sectors, and specifics of doing business in Russia such as branding, service models, and outsourcing. The seminar highlighted various institutes, scientists and projects in Russia, and included presentations by U.S. corporations with significant technology transfer collaboration experience in Russia. Paul R. Smith, retired Deputy Chief of Mission of the U.S. Embassy in Moscow, served as the moderator.
The conference continued with several panel discussions. "Information Technology," moderated by John Gallagher, the Chairman of the United States Industry Coalition, included speakers from Luxoft, ITV Group, and Greycourt. The presentation by Luxoft addressed the development of the Russian outsourcing industry, and the challenges and opportunities it presents to U.S. companies. Boris Goldstein, President of ITV Group, discussed SafeCity, a municipal project aimed to increase the security level of citizens. The project is currently being undertaken in Moscow, Russia. The system is centered on video surveillance of public areas, with access control systems in attics and cellars, emergency stations for communication with law enforcement authorities, and special attention to the provision of security at kindergartens and schools. Greycourt is an American company cooperating with Roksa Telecom to provide LAN/WAN services in Russia, using a method for service stock optimization called functional grouping.
Another panel was devoted to Russian technology companies. A special presentation was made by Iakov Grinberg of the Russian Academy of Sciences and Igor Zotov of Pulsar-Ecotech. The scientists discussed for the first time in a public setting their groundbreaking innovation in the field of computer memory. Mr. Grinberg, Mr. Zotov, and their partner Mr. Krylov (not present at the conference) have created a new type of memory that has the speed capacity of cash memory while costing less than a hard drive. Their invention not allows only the combination, in one type of memory, of the high speed of semiconductor memory, and the energy independence, high density, large volume, and low cost of a hard drive, but also opens up possibilities for fundamentally new computer and processor architectures.
Further panel discussions included "Technology Opportunities for U.S. Businesses in the Newly Independent States." This panel included a presentation by Nikolai Lepeshko, Consul General of Belarus. U.S. representatives from the U.S. Department of Commerce's BISNIS program also shared their views. The BISNIS representatives at the conference work in Yerevan, Armenia, and Tomsk and Novosibirsk, Russia, to help establish collaboration between U.S. businesses and local companies. Each of panel members gave an overview of the science and technologies strengths of their respective regions and discussed some promising organizations and potential areas for cooperation.
The complete agenda for the Russian Conference is located on the MARBC website: http://www.ma-rbc.org. Further information on the C3 EXPO may be found at the conference website http://www.c3expo.com
EPAM and Logrus, the two sponsors of the Russian Conference, played a major role in the success of the Russian Technology Conference. EPAM was recently named No.1 of "Top 5 to Watch in Central and Eastern Europe" and No.3 of global "Top 10 Specialty Application Development Leaders" in the first "Offshore 100" round-up of top global offshore ITO and BPO service providers. With development centers in Russia and other countries of Eastern Europe, EPAM strives to support further business and technology cooperation between U.S. and Russian companies. Logrus, headquartered in Moscow, Russia offers a full set of multilingual localization and translation services for various industries, and top-notch software engineering and testing for all languages, including BiDi and double-byte ones. The company has more than 12 years of experience and possesses unique problem-solving skills and minimal support requirements. Logrus offers translation in all European and Asian as well as many rare languages through its offices and partners.
Since the establishment of C3 Expo's predecessor, CeBIT America, in 2003, the Russian Conference, organized by the Mid-Atlantic Russian Business Council, has become an important component of the trade fair's international program. In 2004, CeBIT America was acquired by H.A. Bruno LLC, with programs that originated in CeBIT continuing in C3 Expo.
C3 Expo was selected by the U.S Department of Commerce as an event for foreign attendees participating in the International Buyers Program, a singular honor for a first-year event. The 2006 C3 Expo has also already been selected by the International Buyers Program.
The conference will return next year to Javits Convention Center in New York from June 27-29, 2006. Further participation by the Russian Conference and the Russian Pavilion, is planned for next year, including enlarging the delegation of representatives from IT, telecommunications, and other advanced technology companies in the Russian Federation.
For more information about the Russian Program at C3 Expo, please contact Val Kogan, Mid-Atlantic - Russia Business Council by phone: (215) 708-2628, email: val@ma-rbc.org, or visit the MARBC website at http://www.ma-rbc.org